please get in touch for wholesale & trades

I set up a new section called blah, you'll find reviews there and some other stuff in the future. there's a new review for woap 10", too.

august 6th 2k8
I'm back from tour with Kids Return and it was really impressive, i've seen a lot of places & bands, met a lot of nice people and made a few new friends. i still struggle with words to express how grateful i am being blessed with all these experiences. thanks to everyone involved, mostly kids return, bail, tobi/anna/paul and everyone who put us up, fed us or gave us a place to sleep

we fade to grey cassettes and grave, shovel... let's go! / me and goliath 7" are finally out, sorry for all the delays. i'll put up pictures soon

april 16th 2k8
first of all congrats to tobi of wishes on a plane who passed his chemistry exams last week!!! he's looking for a place to do his diplomarbeit at, so if you know someone (the closer to munich the better) write me or wishes. or both. ;-) secondly congrats to this website because it just turned 1. happy birthday!

Wishes on a Plane 'this faint line' CD-R is out in the US on Bear Records and they look sweet. the band will have some copies to sell at shows soon which is good because some people still have these old-fashioned mp3-players... keep up with the times, people, get a record player! I currently don't know when Japanese CD-R version will be out. :-(
we finally got ALL records of the 10" from the pressing plant, about 280 copies went back to the netherlands for some reasons

I got in more distrostuff, like Pelican 'march into the sea' 12", followed by 37 seconds of happiness and what price, wonderland 7"s, Don't mess with texas 2nd CD and LP, a few CDs from Oto records, thoughts paint the sky CDs are back in stock and I finally got the missing inserts, CD-Rs and stuff for the kids return LP.

I'm thinking about getting a real website with a real url, with a webshop, with a real ftp, with google finding my website when searching for "time as a color" and last but not least, without the ads. maybe then I will finally sell some records without being at Kafe Kult (i love you guys)

eucalypt just broke up. sad sad sad sad sad. and sad. but a bunch more songs will get released post humous, like a split 10" with majorca and some other records. I have the collection tape for distro which is awesome

march 8th 2k8
andy/strictly no capital letters has his copies now, he wrote some nice words about the record at his website:

"this one came out of the blue, but daniel from the band and time as a color asked if i'd be interested in helping his band put out a release, and i jumped at the chance. wishes on a plane play three long songs (totalling just under 20 minutes) on this ep, a mix of classic emo (julia), indie / emo (mineral) and post rock. you get build ups, twinkles, singing, sobbing, lengthy instrumental parts, and explosions. i am stoked to have been in on this one. the packaging is exceptional too, understated with stamped covers."
i'll get in all releases from russian folk stories in a few days, including the infamous kids return LP.

february 29th 2k8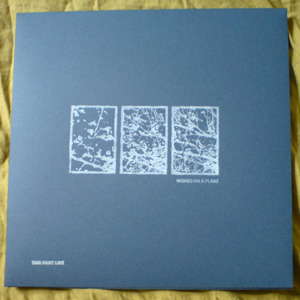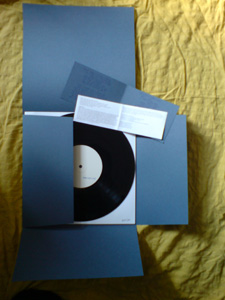 wishes on a plane 'this faint line' 10" is now officially out. they are EUR 7 plus postage. please ask for wholesale and trades. we're kind of slow cutting, printing artwork & booklets and assembling records, so please be patient if it takes some time until we can send out all wholesale orders and trades. andy/sncl will have his copies next week, so if you're in the UK you can order from him. read more in the records section.
there's still some preorder copies left (please look down at this site). these are EUR 7, too. if you're from switzerland you can order these from Marianne/Ape must not kill ape. actually I don't know if she sells them or is just a weird collector like me. (man, I got 4 copies of Mono 10"!!!)

I got some new stuff for distro from Utarid Tapes, Denovali and Hey, Neighbour as well as assorted stuff from Russian distro vinyl kisses, for example Hiro/Brume Retina split CD

I'll be on tour driving kids return from England in july/august, wishes on a plane will come along for some shows, too. we still need help with some dates, please get in touch if you can help
23/7 brighton
24/7 leiden, NL confirmed
25/7 utrecht, NL confirmed
26/7 geel, BEL (asked someone)
27/7wiesbaden or darmstadt w/ wishes on a plane
28/7 munich, kafe kult w/ wishes on a plane
29/7 leipzig area or cz
30/7 berlin, subversiv w/ wishes on a plane
31/7 chemnitz, subway to peter, w/ wishes on a plane
01/8 something between leipzig and münster (or these areas)
02/8 gent, BEL (asked someone)
03/8 london

gslg/mag 7" is delayed one more time, we will change to a different pressing plant. I must say with only having 1 vinyl record out and 1 more taking care of I already learned a lot about pressing plants, about where you can save money and where you should not when having a record cut and pressed and what "1:1 überspielung" really means (file under 5 mins coffee break)

when woap 10" is spread a little I will start recording we fade to grey tapes, I have everything (booklets, master, cassettes, cover-envelopes) now but need to think about how to record them. they are quite long compared to mwoo tapes and it would take an eternity to record them individually via protools and 1 tapedeck again. sorry guys this is going on so slowly

february 4th 2k8
we finally got awesome sounding tests for wishes on a plane this faint line 10" so I could okay them last friday and you can preorder them now: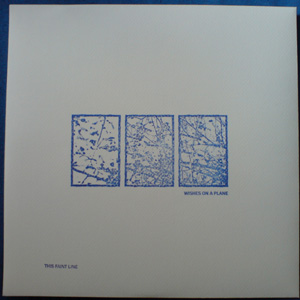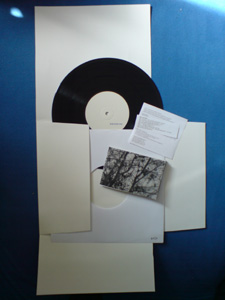 limited edition of 50 preorder copies in white handfolded sleeves with blue stamped artwork (see picture), regular version will come in blue sleeves with white printing. it's a special kind of "3D-paper" (the paper has "dents"). preorder version will also include a special booklet and will be handnumbered and personalized if you want to.
prices are
EUR 08,50 postage paid in germany
EUR 11,50 ppd in europe
EUR 15 ppd worldwide
if you preorder another copy for a friend there's no increase of shipping for up to 2 copies, that means 2 copies are 18,50 ppd in europe and 22 worldwide
you can also get a CD-R with the songs along with the 10" for an extra 50 eurocents.
you can pay by paypal, too. please add one extra euro for paypal fees
we also accept money transfer or cash in a letter. please write to the address in my info. the records will be sent in late february
the record is a collaboration with strictly no capital letters from England, so if you're from the UK and are not hot for the preorder version you can wait some more weeks until the record is out officially (I'd say march 1st) until Andy will have his copies: http://sncl.collective-zine.co.uk/
labels/distros interested in wholesale/trades please write.
a CD-R version will be out in Japan on www.mylifeyourliferecords.com
and in the US on http://www.myspace.com/bearrecords
in a few weeks
you can listen to one song at www.myspace.com/timeasacolor
and the live-demo-versions of the songs at www.myspace.com/wishesonaplane

january 29th 2k8
apparently it is a real challenge to cut a vinyl record as the 2nd run of test pressings for wishes on a plane 10" sucked as much as the first one did. now we have 12 copies of horrible sounding tests. so we decided to have it cut at D&M in berlin and have it sent to the pressing plant. the third bunch of tests is now on the way to me, if they're ok it could be in time for our show with gslg and rabbit theory. we'll do a preorder version you can either preorder now or buy at said show with gslg and trt (if the records come in time). it's going to come in white recordsleeves instead of the normal blue ones and we'll do something else special.

speaking of gslg, grave, shovel... let's go! / me and goliath split 7" test pressings arrived and guess what, they sound weak. actually only gslg's side. so it won't be in time for their tour with solemn leauge:
grave, shovel... let's go! & solemn league
01.02.2008 fulda, cafe panama w/ kids explode
02.02.2008 rosswein, jugendhaus
03.02.2008 berlin, subversiv
04.02.2008 hamburg, fs115 basement
05.02.2008 HELP
06.02.2008 aachen, ajz
07.02.2008 ghent (be), frontline
08.02.2008 neunkirchen, juz
09.02.2008 HELP

16.02.2008 münchen, glockenbachwerkstatt w/ wishes on a plane, the rabbit theory (ch)

thoughts paint the sky tour in march:
14.03.2008 AMSTERDAM (NL) - the cave
15.03.2008 HELP!!
16.03.2008 WOLFSBURG - jugendhaus ost
17.03.2008 HELP!!
18.03.2008 HELP!!
19.03.2008 BERLIN, koma f
20.03.2008 NEURUPPIN - mittendrin
21.03.2008 ROßWEIN, jugendhaus
22.03.2008 NEUSTADT a.d. ORLA - exil
23.03.2008 SCHWEINFURT - stattbahnhof w/ hiro
24.03.2008 HELP!!
25.03.2008 HELP!!
26.03.2008 MÜNCHEN - sunny red w/ wishes on a plane, dartz
27.03.2008 BADEN (CH) - ruum
28.03.2008 HOFHEIM, jazzkeller
29.03.2008 HELP!!

december 19th 2k7
yeah, we're back from our minitour with tpts and we really enjoyed it. thanks to everyone involved, especially my dad for making this possible by lending us his van. we'll try to write some tourdiary and put up some pictures soon, some are on our myspace already. we hi-8-videotaped two shows and hopefully will get an audio recording of the Berlin show as well. it was pretty impressive seing daniel/tpts live solo, he's a talented guitarist and an outstanding entertainer. and a nice person and a freak too. just for the sake of it.

coming back from tour also means suddenly being out of stock of a lot of records and having tons of new records in my box (which is slowly getting too small). new in stock are Petethepiratesquid's LP and 4-way split 10" (one copy each), international screamo compilations part 1 & 2 on emuzah (part 1 is sold out now from the label), my vain therapy CD, Followed by 37 seconds of happiness CD-R, Stevan Flipovic (ex noisy sins of the insect) 3" CD-R, Ringers/Ampere split 6", La Quiete/Catena Collapse split 7", it.is.imperative EPs and of course:

thoughts paint the sky - schlicht und ergreifend CD (EUR7), which is very very good.

mr willis of ohio cassette can be preordered now for EUR 3,50 plus shipping. I still have thoughts paint the sky * EPs (1st and 2nd edition) and wishes on a plane tour cds (EUR 3 each) which contain the songs of our upcoming 10", last week the test pressings arrived and i'm really disappointed because they sound weak. right now we're waiting for the one guy with good ears at the pressing plant to retire from being sick to be able to listen to it. it feels annoying. this means they might be here in late january. if so we'll do a release show february 16th with the rabbit theory and grave, shovel... let's go! at glockenbachwerkstatt in munich, if not that show will happen anyway. and this is really awesome.

grave, shovel... let's go! recorded their songs for a split 7" with meandgoliath which will be a collaboration with parade of spectres and asymetrie. I got a roughly mixed mp3 and i'm super stoked about it.

november 16th 2k7
I'll do a tape EP release with ...we fade to grey which is the other band of grave, shovel... let's go's manu and constantin. 100 copies, out in december maybe. listen to them here

november 8th 2k7
I fully (well, maybe 95%) moved to Munich and finally have internet access at my new home. which does not mean mr willis tape is going quicker because it is a shitload hell of DIY artwork/record and I realized I currently have a lot more weight on my shoulders than I can bare, I definitely have to let some things happen slowlier. TPTS * EP is available now from me for EUR 3. first 50 copies are done, I still need to buy a special white pen for the 2nd 50 copies. all come on vinyl-lookalike CD-Rs and have handwritten red covers with handpainted asterisks in see-through paperbagsleeves with some inserts. TPTS and emuzah already sold out of their copies I think. I'll most likely be a little bad in distributing it until wishes 10" will be out, so that i can distro both (and even mr willis, hopefully) together.

speaking of wishes on a plane 10", it will go to the pressing plant these days. the record sadly won't be here in time for woap tour with tpts, anyway you should attend one of they're shows if your're in essen, near leipzig or berlin. we'll do a tour cd-r with the songs or something.

the TPTS/WOAP tourdates are:
28.11. essen, emokeller + longing for tomorrow
29.11. leipzig, besser wohnen
30.11. roßwein, juz + dead plants live
01.12. berlin, subversiv + it.is.imperative

I got some more stuff for distro: Grave, Shovel... Let's go cassettes, Verstärker/Peter Coretto gatefold LP+CD, Verstärker B-Seiten CD, Peter Coretto EP, Experimental Dental School/Blown Paper Bags 7", KC Milian S/T and season//repeat EPs



september 18th 2k7
the short blooming broke up. this is so sad. i wish i could've done a record with them. wish I was quicker. now I'm crying. Daniel / TPTS is now solo (bandwise). but I guess he's looking for new musicians, if you care contact him
we just put on a show with grave, shovel... let's go! this saturday and they totally blew me away. I hope to be able to help release a 7" or something they've planned. they're going to record soon, jeehaa!

I got some reviews for DATH. read them at records. I also did an interview for Zündfunk/Bayern 2 Radio and should get a cd of it soon. another article at Süddeutsche Zeitung also featured some info about time as a color but I didn't see it yet, if you have a copy please scan it and send it to me.

TPTS CD EP and MWOO cassette are going on slowly because I'm currently moving to Munich so not much is happening these days. and I still don't have internet access at home for 2 or 3 more weeks. grrr. but thanks to kiesi I have a rad new cheap computer. i'm also pretty lucky because I have anna & tobi who helped me moving and three nice guys I live with now, martin, john and paul. and thanks to my mum and my dad for the cars and carpet and all their help. I still have my dad's dog blanket lying around in my room. but i won't trash it. you'll get it back soon, jonas.

Ralph stayed at my new home last sunday and it was really nice to see him again. now he was the first guest at MY new place as well

Wishes on a Plane recordings are done and will go to mixing next week I hope.

I'll get a bunch of copies of Verstärker/Peter Coretto gatefold LP+CDs, Verstärker B-Seiten CD and Die Kleinen Propheten - JAKU CDs (this is Verstärker before their name change) for distro and will help distribute these, so if you care for a few copies for your distro or wanna trade please get in touch. Verstärker play long epic, mostly instrumental music, Peter Coretto play really cool trash pop/punk, both bands are from Munich. actually p.c. WERE from Munich, because they sadly broke up some time ago. Verstärker are still active. and good.

august 20th 2k7
the thoughts paint the sky ep is now available from the band, I should get my vinyl-lookalike cd-rs within the next days. tpts made 50 copies, emuzah will make another 50 copies with different artwork, I'll do 100 copies with more different (?) artwork, mine will come in white on white handpainted and handwritten see-through lunchbags and some photocopied inserts on white paper. Anna and me are sewing a lot these days for the mr. willis of ohio cassettes, we have about 50 clothbags sewed and stamped, but i still have to record the tapes and cut/fold/stamp/glue all cassette inner boxes. but no need to hurry, i still need lyricsheets and stuff from the band anyway. the one-sided 12" with screened b-side version looks f***ing rad and should be available from ape soon. i'll for sure get some for distro. the woap 3-song record is taking shape, recordings will hopefully get finished within the next 2 weeks. a japanese label will most likely release a cd-r version of it which is the raddest thing i can imagine.

sounds like a busy (and expensive) 2nd half of 2007...

july 21st 2k7
in case you don't know them yet you should definitely check out Kenzari's Middle Kata, just saw them live last saturday and they're for sure one of the best bavarian bands EVER! and they're really nice people too because they bought a copy of DATH, which is btw available now in Japan from Hyper Enough and I didn't have much to do with it. haha. thanks, Marianne.

DATH+ NO3- is now sold out from me. wow, these went fast.
I still have some copies lying around here, which wait for a trade to happen or someone to pay for them. so unless someone jumps off these are gone, sorry. please get them from distros all over the world, I wrote them all down in the records section and they are linked in the info section

many people also took some Wishes on a Plane demos, this is coooooool. we're really grateful

I hope to get reviews from Trust, Ox, Mashnote and Emoisdead in the next issues respectively with their next website updates and collective zine as soon as it's online again

the new Pete the Pirate Squid LP is soooo passionate. you should get it or at least check it out
I got the master CD for the Mr Willis tape. but there's still so much artwork to do...
Thoughts paint the Sky are currently at the studio recording their EP

july 3rd 2k7
a few more distros have copies of DATH now or in a few days, namely apemustnotkillape (CH), adagio830/bisaufsmesser, react with protest, stg (UK), yehonala and big bear (US)
i'll get in a lot more stuff for distro these days as well, petethepiratesquid LP/CD, bollo LP, zookeeper 7", la quiete la fine non e la fine 10", danse macabre split 7"s with her breath on glass and am i dead yet, emo apocalypse picture LP, Ampere/Daitro split picture 7", blown paper bags/experimental dental school, end of a year/kids explode and sinaloa/catena collapse split 7"s, meneguar and saddest landscape LPs and a lot of 7"s from apemustnotkillape
grave, shovel... let's go demo cds are finally available from me. and these are sweeeeeet.

I'm going to help thoughts paint the sky releasing their new EP. emuzah records will participate as well. expect it this summer

june 19th 2k7
my interview for süddeutsche zeitung just was in the newspaper today. there's also a digital version (in german) readable here

june 15th 2k7
i still don't have "official" pictures of the DATH+ NO3- comp, but tobi of grave, shovel... let's go has some nice ones at his blogspace
a lot of comp tapes went out already, some bands still need to write me if they want distro copies. the rabbit theory, short blooming, i not dance, autumn in may and grave shovel let's go should have distro copies now. adagio830/bisaufsmesser will have some copies soon.

I have new Wishes on a Plane shirts for sale, these are 8 EUR ppd in Germany, including a demo CD-R
S-XL FOL heavy cotton shirts for men, S-XL jerzees for women. grey w/ black print or black w/ white print. each print is unique. pics soon.


june 11th 2k7
the DATH+ NO3- tape comp is finally out. whohoo! these are EUR 3 at concerts or 4,50 postage paid in Germany, 5 ppd in Europe and 6,50 World. if paying by paypal please add 20 cents for fees. if you order directly from me you get a personalized booklet. if you do a distro please get in contact for wholesale or trades. I hope I can make a few pictures and put them up here because the whole thing turned out really beautiful. I'm pretty busy assembling all those that go to the bands, I hope I can send all these out this week

I just gave a really nice interview to Süddeutsche Zeitung that will appear in their tuesday's youth part, don't know what tuesday though. maybe in 1 or 2 weeks

I have new 3-song demo cds by Wishes on a Plane for distro. these are 3 Euros postage paid to Germany. they have handmade covers and are handnumbered out of 50

may 15 2k7
I just got in a few beautiful records for distro, namely Indian Summer discogaphy 12", Catena Collapse 12", The Birds are Spies 7", Die Emperor Die 7" and Mr Willis of Ohio/I not dance split 12". I could pick up my Rabbit Theory CDs and 12"s in Munich yesterday so I have these too. Sadly they turned out somewhat pricy because I had to pay almost EUR 23 fees for the bank transfer. sorry bout that, wish I had paypaled.

DATH+ NO3- is delayed another three weeks or something, I decided to send the cassettes back because like half of those I checked sounded weaker than the other half. I feel like it was too much work to compromise on that issue. But all covers etc are done so as soon as the cassettes are back I will start to send them out, sorry to everyone who's waiting.


april 9 2k7
apparently my tape compilation is close to be out, the masters are at the "pressing plant" (don't know what you call that institution that makes tapes) and they're already paid so i hope the cassettes will be here in about 10 days. we spent a lot of time of this and last weekend copying and assembling booklets, linolcutting, stamping and printing the covers and cassettesleeves and cutting/folding/glueing the sleeves... no one ever said diy takes that much time! haha!
anyway I'm so happy about how beautiful this is going to be, I sadly don't have a camera or scanner to put up pics here now, hope to get some soon

on other news I'm really excited about my next release which is a tape of Mr Willis of Ohio's songs that were intended to be put out on a 7" on Ape must not kill ape
that record was somehow fucked up by the pressing plant. I'm going to make 100 tapes