please scroll down for my dirstro/mailorder list.

postage info: (for an exact quote please write to timeasacolorspamsucksgmx.net (replace spamsucks by @) with a list of records you want)

germany: EUR 1.45 for 1-2 CDs or 1-2 7"s // EUR 2.20 for 3-6 CDs or 3-6 7"s or 4 tapes // EUR 4.00 for more stuff or anything including LPs
europe: EUR 3.40 for anything up to 500g // EUR 6.00 for anything up to 1kg // EUR 8.60 for anything up to 2kg
world: EUR 6.00 for anything up to 500g // EUR 12.00 for anything up to 1kg // EUR 14.00 for anything up to 2kg // EUR 35.00 for anything up to 5kg

i always try to find the cheapest option for you and won't make profit on shipping cost.

releases: (some reviews in the blah-section)

time 10 captain, your ship is sinking / mio split 12" (may 4th 2010), 525 copies. out now for EUR 8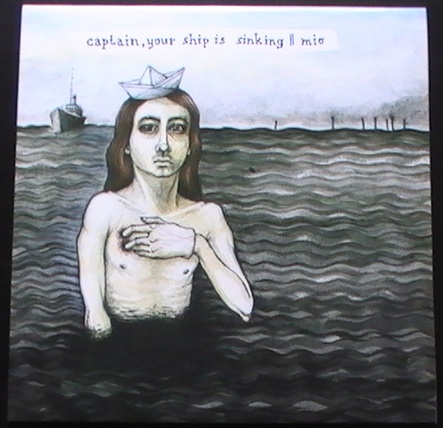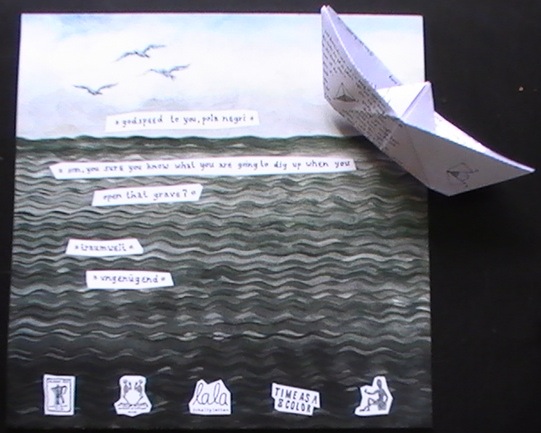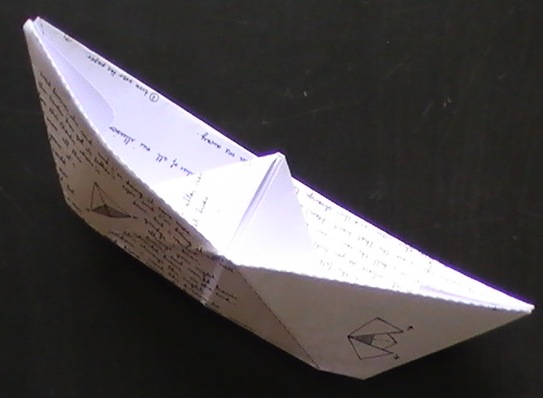 2 songs each band, a cooperation with moment of collapse, adagio830, lala and builtonfriendship. listen to mio and captain, your ship is sinking
comes with a lyric sheet and instructions how to fold it to a paper ship to perfectly complement the cover artwork

time 9.5 this city has no seasons compilation LP + mp3 download (may 15th 2010), 518 copies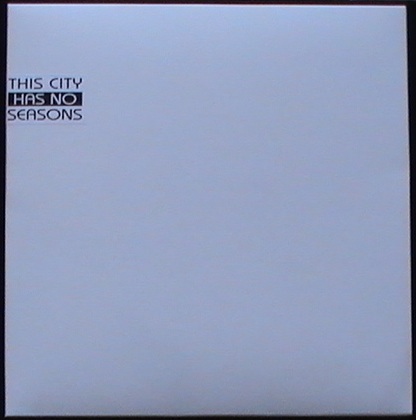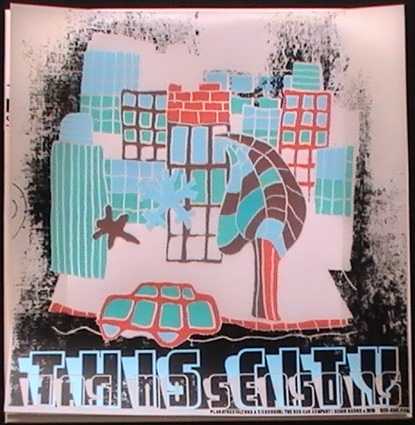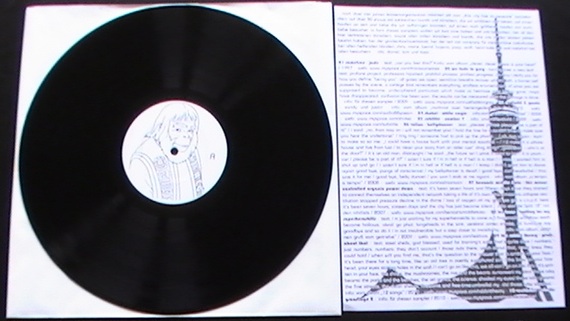 with songs from shokei (white eagle), audio88 (sandy und justin), the rabbit theory (yeah about that), sometree (jade), les trucs (waiting for my superheroskills), kenzari's middle kata (this means controlled organic power down), valina (bellydancer), subtitle (number 7), we fade to grey (turning over a new leaf ), verstärker (arbeitsgrundlage 2). mp3 download also includes bonus tracks from anything but yours, duct hearts and wishes on a plane
includes a 5-color handscreened poster made by red can and a xeroxed sheet with lyrics and info. please go here for more info on this city has no seasons

please note: this is no official time as a color release, I will not trade or sell these, it will be free for everyone who will attend our show on may 15th 2010 with shokei, we fade to grey and kenzari's middle kata, you can get it from the bands and I will have a hand full of records for myself. you'll get a free copy if you buy at least 1 other LP from my releases or distro. just ask for it.

time 9 ...we fade to grey / mock split 7" (may 15th 2010), 330 copies on clear vinyl. out now for EUR 4

1 song each band, cooperation with asymmetrie. listen to we fade to grey and m()ck

time 8 mio / duct hearts split 7" (december 2009), 521 copies, out now for EUR 3,50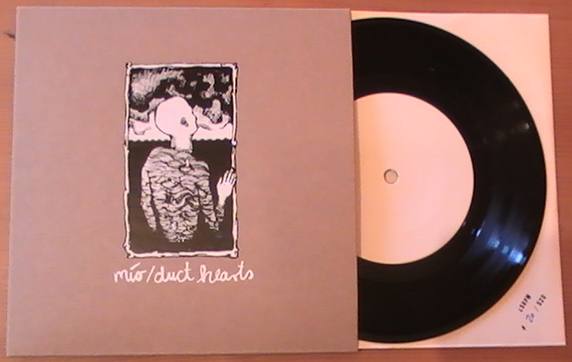 2-color handscreened jackets, vinyl has band names engraved right next to the label. handstamped & handnumbered inner sleeves, photocopied, sewn and stamped booklets made by thomas/russianfolkstories, cover artwork by barbara lüdde.
a cooperation with lala, russian folk stories, canot pneumatique and broken glasses records.
listen to mio and duct hearts

hopefully soon: time 7 kc milian discography 2xLP (summer 2010)
including all releases they did (s/t ep, season//repeat and their song from la quiete split 7") and 3 unreleased tracks. tracks are mixed. i'm waiting for the masters. listen to kc milian

time 6.75 a compilation like no other cassette, released by hungry ghost collective (january 2009), 60 copies made with this artwork, EUR 4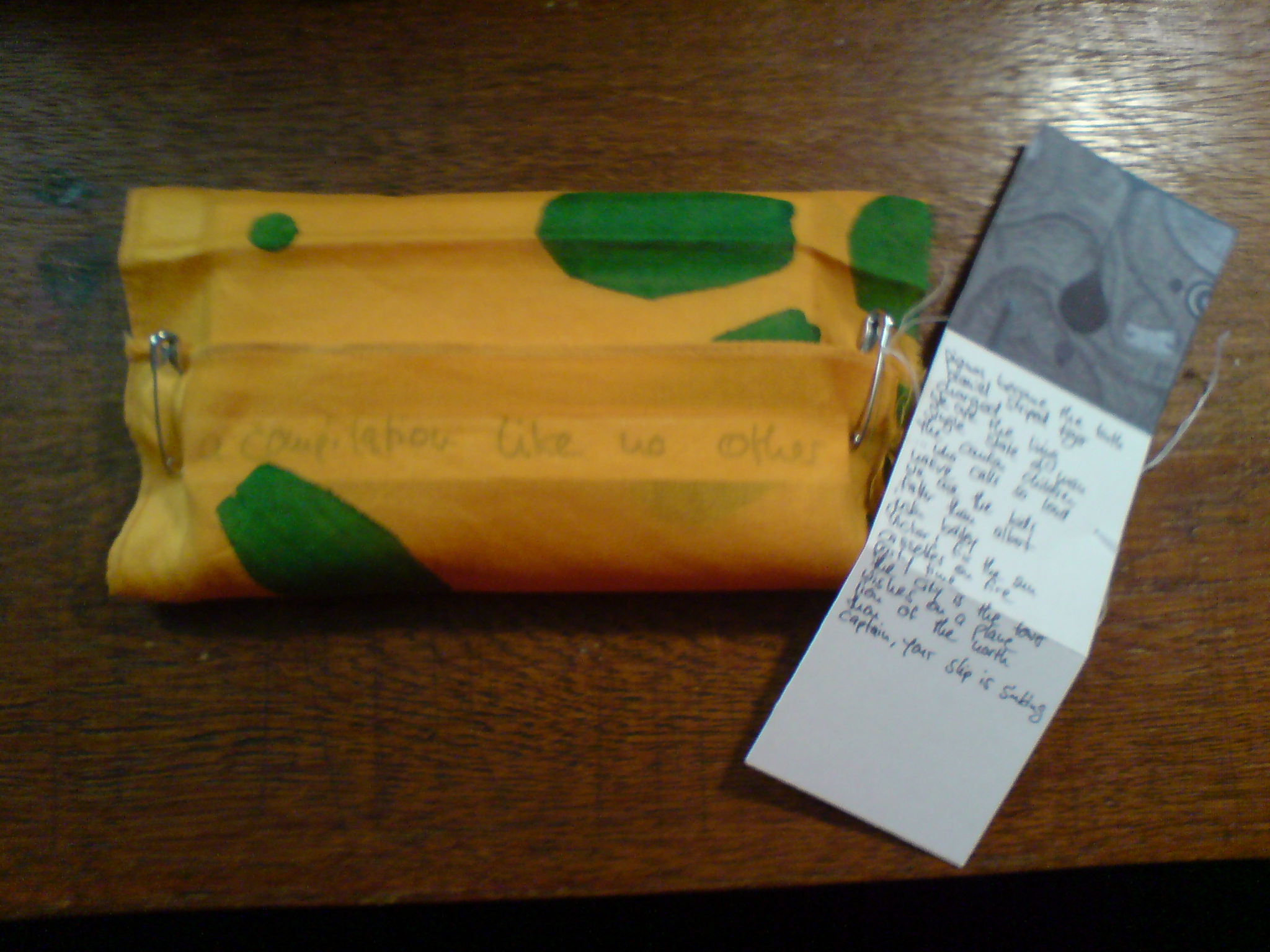 tape comp with handmade artwork, every band taking part was supposed to make their own edition, this is the wishes on a plane edition I made with old cloth tissues and printed origami papersleeves. each tissue looks different.
bands on it are: pianos become the teeth, daniel striped tiger, charged, we are the living, single state of man, the caution children, who calls so loud, native, we are the kids, fatter than albert, justinbailey, victor! fix the sun, cassettes on fire, party time, the city is the tower, wishes on a plane, lion of the north, thou, captain, your ship is sinking
for more info please go to the hungry ghost collective web

time 6.5 Bail / Wishes on a Plane - transparency tour split CD-R (january 2009), about 60 copies, sold out may 2010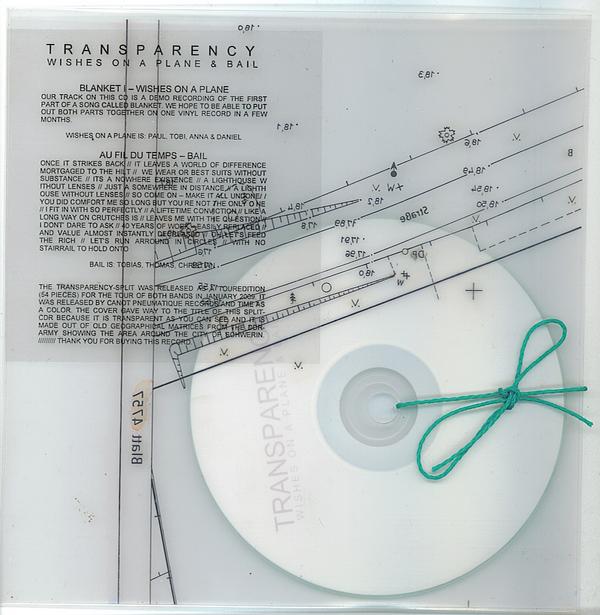 split release with canot pneumatique (i.e. tobi made the records, I booked most of the tour => split release)
one new rehearsal room recorded song by each band, woap play blanket I, bail play au fil de temps. artwork taken from original files of the NVA.

time 6 Grave, Shovel... Let's go! / Me and Goliath split 7" (june 2008), 500 copies, available for EUR 3,50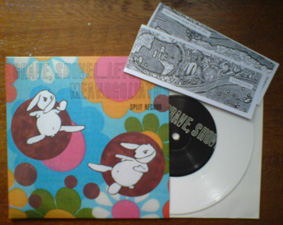 white vinyl. an awesome record which I'm very proud of being able to help out with, GSLG became friends the first day (or rather 2nd) I met them and MAG are an awesome band and the songs are simply intense, I was lucky to get to know steve last year and hope to meet the other guys someday too. Kristof of Kids Explode did the artwork. GSLG made and photocopied the inlays. this is a cooperation with parade of spectres and asymmetrie.

time 5 ...We fade to grey - the sound of trees talking 6-song cassette (july 2008), 100 copies, sold out february 2010.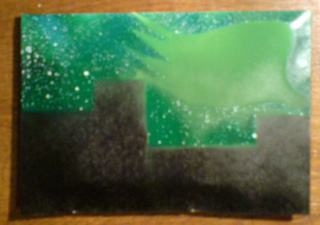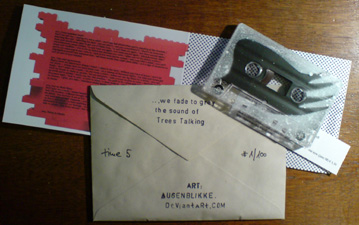 spray painted cassettes and C6-sized recycling paper envelopes, some 3-color, some 4-color. booklet made by the band. artwork by anna sorokina

time 4 Wishes on a Plane - this faint line 10" (february 29th 2008), 500 copies, available for EUR 7. wholesale is EUR 5,50. add 0,50 for an additional CD-R with the songs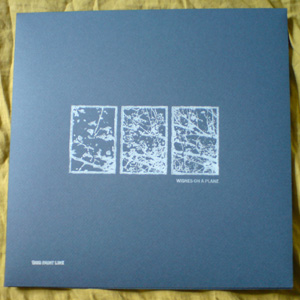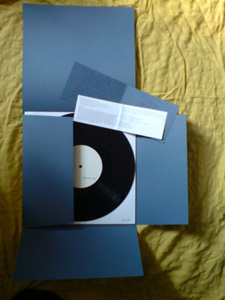 normal version, first run, handnumbered inner sleeves #51-#345 out of 500. so there's 295 copies on this type of paper.

normal version, second run, 150 copies (starting with #346) which come on different paper that is thicker and rather a royal blue in comparison to the greyish blue of the first run. we also found some more see through paper that we used on the preorder version below, so the first 88 copies starting with #346 have these special booklets, although they are not sewn together as on the preorder version.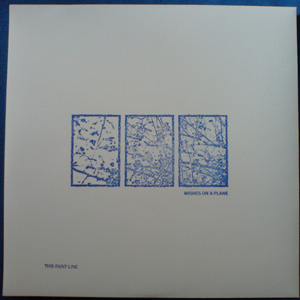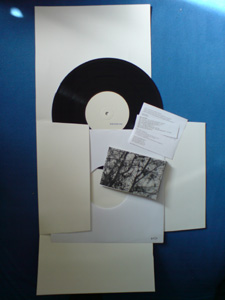 preorder version, handnumbered inner sleeves out of 50, come with a special booklet with see through paper

handcut and handfolded covers on paper with dents, handstamped with standard ink for the preorders and silkscreen ink for the normal version, stamped record labels, stamped booklets with lyrics, printed info sheet with liner notes. three songs at 19:30 min total. this 10" is kind of a concept record, the single songs don't have names and compile to one single piece of art called "this faint line", which is about personal issues, about being incapable of dealing with them alone, about wanting to deal with them alone, about being unable to help a person closer to you than anyone ever before, or being too weak to do so or using being too weak as an excuse and about helplessly watching that person slowly slipping through your fingers. into old habits. into someone else's hands. or into no one else's hands.
it is a cooperation with SNCL (UK)
a CD-R version of about 50 copies was put out by Bear Records (US), this version is sold out.
time 3 Thoughts Paint the Sky "*" CD-R EP (november 2007), 100 copies with time artwork , sold out may 2010.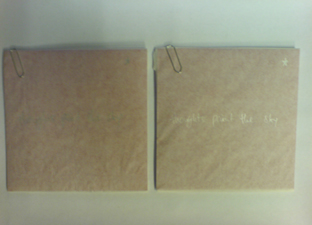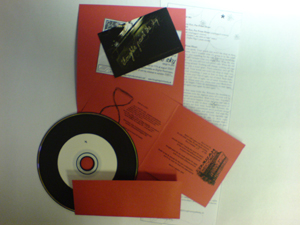 acoustic screamo from essen/germany. a lot more technical than their old stuff. vinyl-lookalike CD-Rs, insert sheets, see through lunchpaperbags, lyricsheet and a sticker. two different versions from me, one with black writing on the inner sleeve (these are sold out from me now), one with white writing on the outer sleeve, 50 copies each. 2 album version songs, 2 acoustic versions, 2 remixes. this is a cooperation with emuzah. tpts made 50 copies with different artwork, emuzah another 50 copies with another different artwork.


time 2 Mr Willis of Ohio - 4 song cassette (december 2007), 100 copies. sold out may 2010.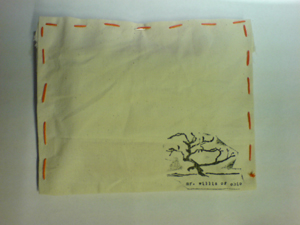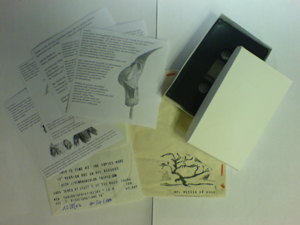 screamo from switzerland. in handsewn clothbags, handmade paperboxes, 5 lyricsheets in a recycled, handstamped guitarstring envelope. a one-sided 12" with screened blank side version is out on apemustnotkillape, synalgie and communique

time 1 DATH+ NO3- (june 2007), 300 copies made. sold out july 2007.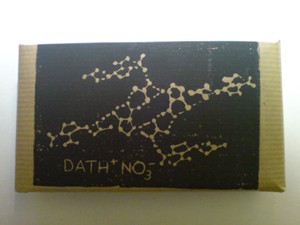 a tape compilation with mr willis of ohio, daitro, i not dance, lilac, heng for the future people (ex kc milian), autumn in may, samara, majmoon, the rabbit theory, the short blooming, grave, shovel... let's go and wishes on a plane.
almost 1 hr of music, two songs from mr willis and short blooming, 1 song from each other bands. fully analog & handmade artwork, covers are die-cut printed, handstamped & handnumbered out of 300 on brownish paper, packed up like a present. 50 red, 250 white cassettes with handwritten title on side a, in a die-cut cardboard box recycled from cereal- and pizzaboxes, handmade booklets with randomly colored, handstamped outer sides, one booklet page for each band designed by the band, a few extra insert sheets with info, tracklist and some essays, poems and other art made by friends.

upcoming releases:

...we fade to grey LP (summer 2010)

bail 10" (fall/winter 2010)
yeahyeahyeah! co-lab with canot pneumatique

duct hearts 7" (fall/winter 2010)

leave nothing but footprints, take nothing but photographs 3x7" subscriber series (fall/winter 2010)
with the rabbit theory, her breath on glass, kids return, bail, austin, texas, duct hearts, me, ship and others
please email if you're generally interested in a subscription, i'll drop you a line when it starts.

eucalypt discography LP (fall/winter 2010)
co release with hansei records, carry the weight records and internationale records

please go to my info section for links to labels/distros/shops that carry my releases

distro:
stuff written in grey is out of stock, in many cases you can ask me to get more copies quite fast.

NEW STUFF

pianoearthquake s/t 12" (self released) EUR 8
grave, shovel... let's go / pete the pirate squid split 12" EUR 9

the new and very welcome cassette (bear records) EUR 4
ezra joyce / pianos become the teeth split 7" (bear records) EUR 4
her breath on glass - what we left behind (singles and b-sides collection LP, bear records) EUR 8
mothra teresa cassette (bear records) EUR 4
the saddest landscape / trophy scars split 7" (bear records) EUR 4
about face - deny me 7" (bear records) EUR 4,00

jakob s/t 7" (graveface) EUR 5,00 back in stock!
june paik s/t 7" on white vinyl (builtonfriendship) EUR 4,00
manku kapak - vergißmeinnicht CD-R (builtonfriendship) EUR 3,50
fargo CD-R (builtonfriendship) EUR 3,50
me, ship - rosebud cassette (lala) EUR 3,50
mio / duct hearts split 7" (time 8) EUR 3,50
single state of man / men as trees split 7" (i corrupt,lala,synalgie) EUR 3,50
Coming up for air - protagonauts 10" (lala, lechuza, güldenes haar) EUR 8
Ciudad del Cabo / Theraps 7" (moment of collapse) EUR 3,50
Heads & Heads / El Eje Del Mäl split 7" (dance tonight!) EUR 3,50
Raein - Ogni Nuovo Inizio Cassette (dance tonight!) EUR 4
Scena one sided 12" (dance tonight!) EUR 8
Love.Life compilation CD-R (builtonfriendship) EUR 4

CASSETTES
Comadre - burn your bones / youth tape (utarid) EUR 3,50
Fancy dress - Sleazy EP cassette (hey, neighbour) EUR 4
In/Humanity Violent resignation (1992-1998) cassette EUR 3,50
Kontrapunkt goodbye tape EUR 3,50
Los Rezios Cassette EUR 3
me, ship - rosebud cassette (lala) EUR 3,50
mothra teresa cassette (bear records) EUR 4
Pheonix Bodies - raise the bullshit flag cassette (utarid) EUR 3,50
Raein - Ogni Nuovo Inizio Cassette (dance tonight!) EUR 4
Robberbaron cassette (hey, neighbour) EUR 4
Ships Funken EP EUR 4
Sputnik Shock demotape EUR 3,50
the new and very welcome cassette (bear records) EUR 4
Taciturn - Maudite Aphrodite in awesome screened origami cover (hellgate) EUR 3,50
Zann - 3 years in the desert tape (utarid) EUR 4


SPLIT CASSETTES AND COMPILATIONS
DATH+ NO3- cassette compilation (time 1) sold out.
Mio / Alia split cassette (lala, tapewriter, builtonfriendship) EUR 4
a compilation like no other (hungry ghost collective, woap edition) EUR 4


6 "s
Her Breath on Glass (listen to aylin) EUR 4

SPLIT 6"s AND COMPILATIONS
Emo Annihilation EUR 3,50


7"s
about face - deny me one-sided 7" (bear records) EUR 4,00
Amalthea 7" (apemustnotkillape) EUR 3,50
Cotidie Mori 7" + CD-R with the same songs (moloch industries) EUR 4
Die Emperor Die 4 song acoustic 7" (adagio830) EUR 3,50
Empire! Empire! (I Was A Lonely Estate) - Year of the Rabbit 7"+ CD-R (sncl) EUR 3,50
Followed by 37 seconds of happiness 7" (blessed hands/ape) EUR 3,50
Girolamos Walk 7" (kids in misery) EUR 3,50
Jakob 7" (graveface) EUR 5
James Dean 7"+ CD-R (hey, presto) EUR 4
june paik s/t 7" on white vinyl (builtonfriendship) EUR 4,00
Kontrapunkt 7" (apemustnotkillape) EUR 3,50
La Quiete s/t 7" (sons of vesta) EUR 4
Loma Prieta 7" (apemustnotkillape) EUR 3,50
very fast HC. both songs would've fit on one side of the 45 rpm 7"
Marshall Teller - a bout with depression 7" (russian folk stories) EUR 3,50
Maserati - Towers were wires 7" (hello sir) EUR 5,50
Mio - außerhalb (lala/emuzah) EUR 3,50
Mr Willis of Ohio - Eure Welt 7" (moment of collapse) EUR 3,50
final 7" of this now defunct swiss yaphet kottoish band.
Narwhal 7" EUR 3. currently sold out please ask for restock
I just heard they broke up. this sucks. mid 90ies ebullition emo stuff of derek/parade of spectres
Sundowner 7" (apemustnotkillape) EUR 3,50
We leave at dawn 7" (russian folk stories) EUR 3,50
What Price, Wonderland - claim 7" (blessed hands) EUR 3,50
Yes Sensei S/T 7" (russian folk stories) EUR 3,50
Yfere 7" (apemustnotkillape) EUR 3,50
Zookeeper - Euro tour 7" (altin village) EUR 4
debut 2-song 7" of Chris Simpson's (Mineral, Gloria Record) new singer/songwriter project


SPLIT 7"s AND COMPILATIONS
Amalthea / Only for the Sake of Aching 7" (apemustnotkillape) EUR 3,50
Antithesis / Khere split 7" (ape) EUR 3,50
Battle of Wolf 359 / Kaddish (rwp/parade of spectres) EUR 3,50 sold out
Battle of Wolf 359 / Singaia (rwp/parade of spectres) EUR 3,50
Catena Collapse / La Quiete 7" third press (adagio) EUR 3,50
Ciudad del Cabo / Theraps (moment of collapse) EUR 3,50
Experimental Dental School / Blown Paper Bags split 7" (cragstan astronaut) EUR 3,50
ezra joyce / pianos become the teeth split 7" (bear records) EUR 4
Fluf 2kb 7" (red can) EUR 3
Grave, Shovel... Let's go! / Me and Goliath EUR 3,50
Heads & Heads / El Eje Del Mäl split 7" (dance tonight!) EUR 3,50
Her Breath on Glass / Sofy Major (ifb) EUR 3,50
Jesus Kid Canaveral 7" (red can) EUR 2,50
Kidcrash / L'Antietam split 7" (narshardaa) EUR 3,50
Kids Explode / End of a Year split 7" (narshardaa) EUR 3,50
Kids Explode / Solemn League (asymmetrie) EUR 3,50
Marshall Teller / Halftime Parade split 7" (russian folk stories) EUR 3,50
mio / duct hearts split 7" (time 8) EUR 3,50
mock / we fade to grey split 7" (time 9) EUR 4,00
Red Can Festival 06 compilation 7" w/ Purren / Mitote / Thee Nine / The Subrosa Falcon Association (red can) EUR 3,50
4-color handscreened covers
Russ Defense 7" (red can) EUR 2,50
Sinaloa / Catena Collapse split 7" (narshardaa) EUR 3,50
Sinaloa / Daniel Striped Tiger split 7" (narshardaa/clean plate) EUR 3,50
single state of man / men as trees split 7" (i corrupt,lala,synalgie) EUR 3,50
Storm the Bastille / The Tumor Street Conspiracy 7" (russian folk stories) EUR 3,50
awesome packaging in handsewn cloth sleeves
Syn*Error / Adorno (kids in misery) EUR 3,50
Syn*Error / What Price, Wonderland? (life is not like dawson's creek) EUR 3,50
The Process / Rentokiller split 7"(OSK) EUR 3,50
the saddest landscape / trophy scars split 7" (bear records) EUR 4
Utarid / Tiala split 7" (parade of spectres) EUR 3. sold out. please ask for restock
on white vinyl



10"s
Coming up for air - protagonauts 10" (lala, lechuza, güldenes haar) EUR 8
Fire Team Charlie S/T 10" (adagio830) EUR 8
La Quiete - La fine non e la fine 10"2nd press (RWP) EUR 8
Marshall Teller - a farewell to kings 10" (russian folk stories) EUR 8
Storm the Bastille - dismantled 10" (russian folk stories) EUR 8
Wishes on a Plane - this faint line 10" (time 4) EUR 7. ask for wholesale & trades
we still have a few copies of the preorder version in white record sleeves and special booklets, please ask

2x10"s
Who Calls so Loud (adagio830) + CD EUR 15

SPLIT 10"s AND COMPILATIONS
Coffin Dancer / Kidcrash split 10" (denovali) EUR 8
Petethepiratesquid/Kias Fansuri/Teeth of Mammals/Narwhal 4-way Split 10" (Parade of Spectres) EUR 8. gone again. might get restock soon.
handscreened Covers by Ryan of Cease upon the Capitol.
Shermer / The Machines will take over split 10" (stg) EUR 8


12"s
Are We Electric? - Novoc LP+CD-R (red can) EUR 10
noiserockish instrumental stuff
Bökanövsky - one sided LP (moloch industries) EUR 7
Bollo - foot[river falls]head LP (altin village) EUR 9
at most times soft, dark & depressing instrumental postrock from Germany.
Catena Collapse - rairairai/outback songs 12" (adagio830) EUR 9
Deleometer - Rotation um die ich-Achse (asymmetrie) EUR 8
Don't Mess with Texas - Los Dias De Junio LP (moonlee) EUR 9
Ghostlimb LP w/ etched b-side (adagio830) EUR 9
Her Breath on Glass - We aimed straight down LP (ifb) EUR 9
her breath on glass - what we left behind (singles and b-sides collection LP, bear records) EUR 8
Indian Summer - discography aka hidden arithmetic LP (adagio830) EUR 10
beautiful discography collection of this classic emo band between whispered lyrics to one-string-guitarmelodies and harsh, passionate screamed bangs. silver print on blue covers with some nice inserts and a poster.
Jakov Goodnight - Anybody else but us LP (red can) EUR 8
we (wishes) wanted to do a split with them once, all songs were halfway recorded, they broke up, we changed 2 bandmembers, that's the fairytale's end. great dirty, rough indieemorock with some melodical parts and some punkish elements. I still love them. come back!!!
June Paik LP (parade of spectres/rwp) EUR 8
Le pre ou je suis mort LP (communication is not words) EUR 9
screamo something around daïtro, gantz and envy
Pelican - March into the Sea 12" (hawthorne street) blue or grey vinyl EUR 15
Meet me in St. Louis - Variations on Swing LP on clear wax w/ black splatters (denovali) EUR 9
post-HCish stuff in the veins of mars volta
Meneguar - I was born at night LP (narshardaa) EUR 9
Mikrokosmos 23 - als wir jung waren ist jetzt LP (kids in misery) EUR 8
Mitote - Starter LP+CD (red can) EUR 10
punkrock with political german lyrics. three color handscreened covers on paper that looks like leather
Mr. Willis of Ohio one sided 12" with screened blank side (synalgie) EUR 8
pianoearthquake s/t 12" (self released) EUR 8
Petethepiratesquid - don't correct me if I'm wrong LP (altin village) EUR 10. sold out.
RAEIN ogni nuovo inizio one-sided 12"(sons of vesta) EUR 8
Scena one sided 12" (dance tonight!) EUR 8
Shokei - painkiller 12" (narshardaa) EUR 8
Single State of Man LP (synalgie, ape) EUR 9
Thee Nine - Nitty Magik LP+CD-R (red can) EUR 11
noise rock/ punk from munich sometimes compared to Wipers, rocking Sonic Youth or Hot Water Music. exceptional packaging as well (as expected for red can), the record comes in a black disco bag instead of a white inner sleeve, with a sticker of a painting by Eszter Segattini-Csavas called girl with a flea (the flea is huge). the disco bag is put in a silver-golden handscreened outer sleeve that has a hole punched in right where the girl's head is so that you can see her head through that whole. inside is a handscreened poster and a CD-R with the songs of the LP.
The Falcon Five - we are falcon and you don't 12" (narshardaa) EUR 8
The Rabbit Theory - Thanks but no thanks LP on yellow vinyl (quiet records) EUR 13
limited to 200. on swirl yellow wax!!! nino is insane! sorry for the high price, i had to pay insane fees for the money transfer. i don't make any money with this record.
The Subrosa Falcon Association - Where's my Rabbit? LP+CD (red can) EUR 10
ditry punkrock with some screamed poppy melodies. 3-colored handscreened jacket
What Price, Wonderland - Thirty with a wink LP (ape) EUR 9

2x12"s
Jakob - Solace 2xLP (graveface) EUR 18
one record on black, one on red vinyl
Neil on Impression - l'oceano delle onde che restano onde per sempre 2xLP" (sons of vesta) EUR 16
Ordination of Aaron discography 2xLP (adagio830) EUR 16
The Appleseed Cast - Mare Vitalis 2xLP (graveface) EUR 18
The Appleseed Cast - Sagarmatha 2xLP (graveface) EUR 20

SPLIT 12"s AND COMPILATIONS
Abenteuer Auftauen / Trauma split LP (kids in misery) EUR 8
Connections - a sixway split record (moment of collapse) EUR 8
with Dodewaard, Hiro, Amalthea, Arse Moreira, Eucalypt and Orbit Cinta Benjamin. on purple vinyl
Emo Apocalypse one-sided picture disc LP (RWP) EUR 8
40 bands play 30 second songs. listen to it whole and go crazy.
grave, shovel... let's go / pete the pirate squid split 12" EUR 9
I not dance / Mr. Willis of Ohio split 12" (from a strangers hands) EUR 8
blue or black (you choose) dye cut printed covers, emoish hc times two from switzerland and austria, three songs each, handnumbered/400
June Paik / Titan (rwp) EUR 8
Kids Explode / Shokei split LP (narshardaa) EUR 8
Kids Return / Bail 'Konsortium' split (canot pneumatique/russian folk stories) EUR 8
mio / captain, your ship is sinking split 12" (time 10) EUR 8
Storm the Bastille / In First Person split LP (apemustnotkillape/protagonist) EUR 8
Verstärker/Peter Coretto Gatefold LP+CD (milchmann) EUR 9. please ask for wholesale
Verstärker do some kind of epic music with a lot of guitar carpets and some electronic elements, somewhat into that appleseed cast/mogwai direction. Peter Coretto played something between indie, pop and hardcore with personal social german lyrics and a trashy edgyness.


CDs
Abduktio - Thermidor CD EUR 7
2nd longplayer of this passionate, melodic and emotional band from Finland
Anna Zoitke - Wie viel Liebe kannst du tragen? CD (red can) EUR 11
german indieemopop in a decent way
Are We Electric? - Novoc CD (red can) EUR 10
Bogi - Ubit' Vremya CD EUR 8
Brighter than a thousand suns digipack CD EUR 8
Crrrust - Pain Is A Mere Sensation CD EUR 8
Ding Dong Dead 4-song Demo CD-R EUR 3
german hardcore with weird soft parts, beautifully spraypainted cardboard jacket in different colors. with insert
Don't Mess with Texas - Los Dias De Junio CD (moonlee) EUR 9
Emanon - Behind The Walls Of Melody EUR 7
Screamo from Latvija in the vein of Funeral Diner / Circle Takes The Square
E.N.Joyable - Avcehuego net / IsItIndia? CD EUR 8
E.N.Joyable - Nash Otvet Solncu / Durdom V Durdome CD-R EUR 3,50
Eno stea.alto CD (synalgie/karate, monkey, superfighter) EUR 8
fargo CD-R (builtonfriendship) EUR 3,50
Fiera! - Casiotone for Bears CD (aeiou) EUR 6
Fine Before You Came - cutivation of ease CD (oto) EUR 6
Hudson River School - Rise & Fall CD EUR 8
Inquiry Laste Scenery - International demo 2007 3" CD (hellgate) EUR 3,50
Iscariote - necropole trauma CD (oto) EUR 6
I walk the Line - Black Wave Rising! CD EUR 7
Melodic experimental punk with keyboards in the vein of The Murder City Devils, 3rd album, members of Wasted, Manifesto Jukebox
Jaialai - Rubberbody Dance In Neon Lights CD EP EUR 6
Jakob - Solace CD (graveface) EUR 10
Jeffrey - have you heard about how we caught fire CDEP EUR 6
nice emo-pop from these very friendly Augsburg-owned people
Johanna CD-R (lala) EUR 4
K.C.Milian S/T CD EP (holidays) EUR 6
K.C.Milian Season//Repeat CD EP (marsiglia) EUR 7. sold out. wait for the discography 2xLP
Kaospilot - Discography CD (oto) EUR 6
L'Homme Puma CD EP EUR 7
digipack 3 windows, kind of screamo with electro and samples like from monument to masses
Majmoon - Shimponauts Journey Digipack CD EUR 8
instrumental postrock from munich. at times dissonant and odd-rhythmic. at times red sparowes-ish or mogwai-esque
manku kapak - vergißmeinnicht CD-R (builtonfriendship) EUR 3,50
Marshall Teller - in security CD-R (russian folk stories) EUR 3,50
Mitote - Starter CD (red can) EUR 10
Peter Coretto S/T CDEP EUR 5. please ask for wholesale
Purple Dog - Hronika CD EUR 7
Beautiful atmospheric emorock with really nice abstract lyrics from Russia
Robogünther die Stahlmaschine 3" CD-R in floppydisk cover (hellgate) EUR 3
Samara - One more time with sadness CDEP EUR 4
dissonant, dark pop-posthardcore in a calm, soft way.
Sandinista S/T CD in digipack EUR 8
Dark modern hardcore with very deep social and political lyrics from Saint Petersburg also influenced by such bands as Tragedy and Neurosis. The band has ended its active and vivid period of life with the tragic death of Timur, but they will live forever in their music
Ships Funken CD EP EUR 4
Solaris - Portraits Noires CD EUR 8
Tesa S/T CD EUR 8
The Rabbit Theory - Thanks but no thanks CD EUR 10
The Subrosa Falcon Association - Where's my Rabbit? CD (red can) EUR 10
Vaccine - We're going places CDEP EUR 5
young band from munich sounding a bit like radiohead or a cooler version of coldplay
Verstärker B-Seiten full length (about 70 mins) CD (milchmann) EUR 9. please ask for wholesale
What Price, Wonderland - Thirty with a wink CD (OSK) EUR 8
Wishes on a Plane - this faint line 10" + CD-R (time 4) EUR 7,50
Wishes on a Plane - this faint line CD-R US version (bear records) EUR 4. sold out
Wishes on a Plane tour CD-R EUR 4. sold out
tourversion of this faint line10"



SPLIT CDs AND COMPILATIONS
Brume Retina / Hiro split CD EUR 8
Cleaner / Gantz split CD (oto) EUR 6
Jumbo Jet (Russia) / Sleep Talker (France) Split CD EUR 8
Majmoon / Peach Pit CD (guranje slitice) EUR 7
Optimus Prime / Gone with the Pain split CD (OSK) EUR 8
2 screamo bands from Moscow, Russia and Madrid, Spain. Great record and very good design.
Verstärker/Peter Coretto Gatefold LP+CD (milchmann) EUR 9. please ask for wholesale
Verstärker do some kind of epic music with a lot of guitar carpets and some electronic elements, somewhat into that appleseed cast/mogwai direction. Peter Coretto played something between indie, pop and hardcore with personal social german lyrics and a trashy edgyness.
v/a - Münchensampler 6 CD-R (Kultzone, 150 made) EUR 6
compilation with munich-based bands, comes in a cardboard box with a real photograph of each band. w/ The Nine, Majmoon, Wishes on a Plane, Mitote, Anna Zoitke, Verstärker, Peter Coretto, Portinari and more
v/a - Streetlife Festival CD-R (Kultzone, 100 made) EUR 3
compilation with all bands that played streetlife festival's kulturbühne in may 06. actually all but one band but who cares. w/ Anna Zoitke, Kenzaris Middle Kata, Subrosa, The Ruby Sea, The Velvet Noise, Wishes on a Plane and more


T-SHIRTS & PATCHES
Alia patch (as seen on their demo CD) EUR 0,50
see my myspace for pictures
Amanda Rogers - black shirt with light blue print of a piano, size s, slighty used EUR 10
Dashboard Confessional - Switzerland 1873 t-shirt, black size m, slighty used EUR 5
Mio patch EUR 0,50
Pelican - white american apparel hoodie, size s. silver print of 2 arms on front, black&red print of flames (or something like that) on back. worn but i good shape EUR 15
Wishes on a Plane t-shirts EUR 7. ask for wholesale & trades.
S-XL FOL heavy cotton t-shirts or child's size 140 or 150 FOL valueweight (S-XL run a bit big, but only a bit), S-XL jerzees for women. grey w/ black print or black w/ white print. pics soon. we also have hooded sweatshirts black or grey, these are EUR 15. please go here to see the design.



other haves i would like to trade/sell:
(some doubles or stuff I don't like that much. used and in at least very good condition unless noted otherwise. if you want something make an offer)
Always Outnumbered - When potential outweighs ability LP listened to twice
Angels in the Architecture - on ten 7" played once
Billy / Hunter Rose split 7" on Kill you for a dollar/Braeburn Rec. new
Bleed - True colors running EP 7" on Ebullition. listened to once
Blink 182 - I miss you Picture 7" new
Bombshell S/T LP on Dakota Records/Allied Recordings. played once
Dashboard Confessional t-shirt "Switzerland", black with yellow print, size m
Donots vs Midtown 7"on blue wax. front cover signed by all Donots members. some edding stains on the backcover
Everest - Demons for Company CD. played thrice
Face-About-Face - Parts LP on white wax. listened to twice
Fastbreak - Whenever you're ready CD played twice
Forever and a Day - Where has the passion gone? CD on Eulogy. played few times
For the Day - Love isn't Brains, Children... LP. listened to once
Garrison - Be a Criminal CD. played twice
Grampus Eight vs Dina CD. played twice
Gratitude - Drive Away 7" with Jonah Matranga (Onelinedrawing, New End Original). listened to twice
Jara - S/T 7" on Ebullition. listened to once
Jettison - The Neon Lights 7" on clear vinyl, new
Jimmy Eat World - Bleed American 7"
Jimmy Eat World - The Middle 7" red vinyl new
Jimmy Eat World - Sweetness 7" green vinyl new
Jimmy Eat World - Work 7" blue vinyl new
Jimmy Eat World - Firestarter / Last Christmas 7" green vinyl new
Jimmy Eat World - Futures 2xCD in digipack. 2nd CD includes early demo versions of all songs. quite interesting. played once
K Scott Ritcher - Nashville Geographic 12" on Doghouse/Hometown Caravan. solo record of Metroshifter singer. played once
Losing Six Seconds - Omniscient and in Control CD. played once
Madeleine - Boy=Man CD. played once
Midvale - first aid for airmen, played once
Ned/Oharu split 10" played once
Red Animal War/Losone split 7" on clear vinyl. listened to once
River City High - Doghouse Fan Series 7" on clear wax /1000
Sabeth 7" with nice polaroid-ish lyricsheets. played but in good condition.
Sineater - Dunce Cap 7" red vinyl. listened to once
Stars Rain Down / The Green Acre split CD. listened to a few times
Sunday's Best - Poised to Break CD. played but in good condition.
Texas is the Reason S/T 7". listened to a few times
The Cherryville - Whether We Are CD. played twice
The New Rising Sons - four song S/T EP in nice digipack. played twice. with Garret Klahn of Texas is the Reason
The Shampoo - Radar Rot CD. played twice
The Unfinished Sympathy - An investment in logistics CD. played thrice
The Unfinished Sympathy S/T LP listened to twice

wantlist: (only on vinyl unless noted otherwise. I know that some stuff is still in print)
cool shirts size S
petethepiratesquid demotape
evergreen - anything (especially 7 songs LP) except for the bootleg 7" (250 dollar loser, with colored cover and labels)
indian summer - S/T 'angry son' 7" and split 7" with current
daitro 7" on alchimia
amber inn - first 7". also all comp stuff on vinyl except I can't live without it.
the appleseed cast - mare vitalis 1xLP
the appleseed cast 7" on tan bur records
december's tragic drive (pre appleseed cast), everything
polar / mass movement of the moth split 7" on blue/white vinyl
mineral - endserenading and power of failling LPs
Texas is the Reason LP
Texas is the Reason t-shirt with print of "do you know who you are?"
New End Original - Lukewarm CD
Jejune - Junk CD
Turnkey 7"
the saddest landscape - splits and singles. especially cover your heart tour cd
toru okada - anything but 12" on shockvalue
three letter engagement/a sometimes promise (ex embassy) split 7"
the get up kids/rocket from the crypt 7" with no pen line on the cover (fuck lostandfound)
gregor samsa 12" (not the 55:12 one)
65 days of static LPs
jakob (from napier, new zealand, www.myspace.com/jakobmusic), everything they did: their album solace on 2xLP, their 7" on graveface, Semaphore / To Be Locked Up 7" on Midium/Hell Squad, Dominion, Cale:Drew, Subsets of Sets
daturah 1st LP
myiagi in spring comp 7" w/ kenzari's middle kata
squarewell, everything: 1st s/t ep, two toy model, picture disc 7"
antarctica, all
neill on impression lp
AUGHRA "The Book Of Habidabad Vol. 2" Art Book & CD
this will destroy you, all
pelican, splits w/ mono, scissorfight/the austerity program
pelican white zip hoodie w/ design of the fire in our throats, size S
isis, panopticon LP
the short blooming 1st demo
the short blooming/only for the sake of aching tour cd
single state of man tour cd-r
single state of man/kontrapunkt split tape

compilations:
all comps with bands in my wantlist
world domination in 13 easy steps w/ three letter engagement on stratagem ripcords
eucalyptus 2x7" on tree records
Punk TV LP with CFD
(don't forget to) breathe LP + 10" on Crank w/ CFD, Mineral...
"People don't take photographs of things they..." 7" on Broken Press. (the version with manilla envelope cover /100)
friends don't eat each other tape comp on flames.waves.words
inspirit w/amber inn
capsule w/amber inn



any stuff from these labels:
inchworm (old stuff):
Shroomunion - "Bitter and Sad" 7"
Guyver-One - 7"
The Sky By Sorella - 7",
Guyver-One - "Obsessed With..." 12" EP
The Mayday Quartet - 7" (the lost record)
The Desert Jet Set - 7"
freewill:
linus 7"
junkdrawer 7"
pilot car 7"

guitar pedals I would like to sell or trade for records or other pedals
Vox V830 Distortion Booster
Ibanez CP 10 Compressor/Sustainer
Ibanez TS 7
Ibanez TS 808 (the new made in Japan version)
Marshall JH-1 Jackhammer
a Treble/Mid/Fat Booster made by Detlef Bock
Boss BD-2 Blues Driver

guitar pedals I would like to have
Crowther Hot Cake
Line 6 DL-4
Line 6 Verbzilla
Diaz Tremodillo
an old DOD Delay
EHX Holy Grail
Empress Tremolo
Cusack Tap-a-Whirl
Line 6 Tremolo
Keeley Javaboost
an analog delay

reminder for myself to check out:
guyver one
gantz
http://www.myspace.com/swarmandsing
RENDER USELESS The Relationship Between a 1/4 Note and... 7"
www.myspace.com/iwouldetc
http://www.youtube.com/watch?v=iu3kptjzVUk&mode=related&search=
acme [www.youtube.com]policy of three [www.youtube.com]
400 years [www.youtube.com]
honeywell [www.youtube.com]
frail [www.youtube.com]
JOHN HENRY WEST!!! [www.youtube.com]
enewetak [www.youtube.com]
swing kids [www.youtube.com]
parades end! [www.youtube.com]
swipe (dont miss this one cus you probably havent heard them!) [www.youtube.com]
one eyed god prophecy [www.youtube.com]
torches to rome [www.youtube.com]
constatine sankathi [www.youtube.com]
neil perry (why not a newer one..) [www.youtube.com]
http://www.deconstructingpyramids.com/ oder ben roe justify.the @ means.org: take down your art/towers 10" oder 9"
bear and the butterfly
http://www.scenecred.com
toru okada
http://www.coldbringerrecordings.com/
United States "Divorce Songs" on rok lok/life in a box
rok lok
http://www.stickysticky.co.uk/3.htm